Guest Safety
Text Assist
Need an assist from Guest Services at a Sharks game? The Tech CU Arena Guest Services staff has the answer. Our Text Assist program is being used to support and enhance our efforts to provide a guest-friendly environment for our fans!
In order to enhance your experience at Tech CU Arena, we ask you to please assist us by simply sending a text message to Guest Services if you ever have an issue in your area or even a question about the Barracuda fan experience.
The Text Assist process is quick and simple and designed to provide you with an immediate response. Here's how it works:
Text the number 1-940-4Assist or 1-940-427-7478 and include the issue, comment, or concern with your seating section, row, and seat.
Guest Services will reply, monitor your situation and request additional information if needed.
The Text Assist program is designed to enhance the guest experience at Tech CU Arena. It is not to be used to communicate fraudulent, phony, or irrelevant messages. Mobile numbers that repeatedly send texts that are considered a nuisance will be prevented from communicating in the future.
Bay Policy
Similar to events at SAP Center, security screening will be in place at Tech CU Arena and all bags must be 5" x 9" x 2" or smaller. Bags larger than this, including those coming from Sharks Ice, must be returned to your vehicle unless they are parenting bags and/or medical in nature. All bags will be subject to search.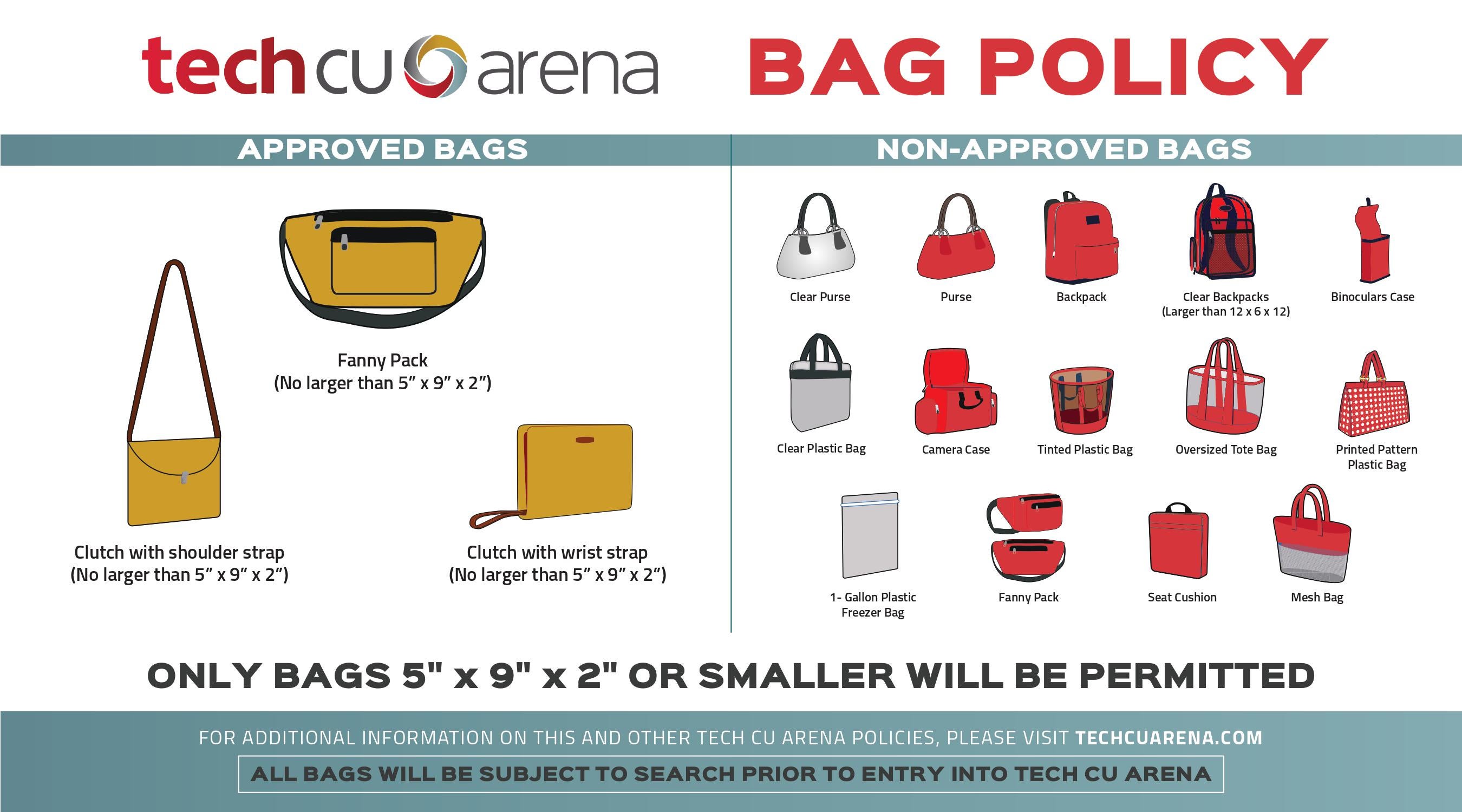 Permitted/ Forbidden Items
All Events: The below policies are consistent for all events hosted at Tech CU Arena.
Animals: We permit no animals in Tech CU Arena than animals that are certified "Working Dogs" and "Miniature Ponies" that are in service to assist disabled guests. Service dogs "in-training" are not allowed in Tech CU Arena.
Bags: Please check our new bag policy.
Concealed Carry Permit: Guests with a Concealed Carry Permit are not permitted to carry a weapon into the arena.
Prohibited Items: Cans, glass bottles, thermos-type containers, hard-sided coolers, weapons (including masks and props that could be used as a weapon), ammunition, balloons, laser pens, noisemakers such as air horns, selfie sticks, GoPros, flowers, and gifts for a performing artist(s) are not allowed in Tech CU Arena. Guests can dispose of or return prohibited items to their vehicles. In some cases and at management discretion select prohibited items can be stored in the on-site lockers for a nominal fee.
Permitted Liquids: In addition to one (1) sealed bottle of water, perfume and hand sanitizer are permitted liquid items only if in a small plastic container. No glass containers will be permitted regardless of contents.
Weapons: Guests are prohibited from bringing weapons and masks or props that can be used as weapons into Tech CU Arena. Weapons may not be checked in and include, but are not limited to, firearms, explosives, handcuffs, batons, stun guns, knives, tear gas and pepper spray. Guests with these items will not be allowed in the building.
Permitted/ Prohibited Items - Concerts
Outside Food and Beverage: Food and Beverages are not permitted for concerts at Tech CU Arena. Please note outside food and beverage for medical reasons will always be permitted at Tech CU Arena.
Cameras: Cameras that can fit into a guest's pocket are permitted for most concerts. For full details visit techcuarena.com/events and select the show(s) you will be attending. Cameras that are considered professional in nature or have detachable lenses are prohibited.
Signs: Sign policies vary by event and are at the discretion of management and tour operator. Please call 408-287-7070 to speak to the receptionist and get show-specific information.
Banners: Banners are not permitted for any concerts at Tech CU Arena.
Laptops/Tablets: Laptops/Tablets are not permitted unless the guest will be seated in a Loge Box, Theatre Box, or Suite.
Permitted/ Prohibited Items - Barracuda Hockey
Outside Food and Beverage: Guests may bring in reasonable amounts of food and non-alcoholic beverages for their own personal consumption at most events. Empty, reusable water bottles are permitted.
Cameras: Still cameras (film or digital) are permitted as long as the lens does not exceed six inches in length.
Signs: Handheld signs are allowed as long as they are no larger than poster size (20"x30"), do not impair the view of other guests and do not contain vulgar, offensive or graphic content. A sign may not be commercial in nature. Dry-erase boards and signs attached to sticks or poles are not permitted.
Banners: Banners may be of larger size and may only be hung so as not to damage any Tech CU Arena surfaces and not block any Tech CU Arena advertising. Banners may not be commercial in nature.
Laptops/Tablets: Laptops/Tablets are not permitted unless the guest will be seated in a Loge Box, Theatre Box, or Suite.
Tech CU Arena has a general "no re-entry" policy during all events. Should a guest of the arena have an emergency please visit the East or West Entrance for further assistance.